"Bacterial sphingolipids: A new chapter in the mystery of the Sphinx"
Event Details:
Thursday, May 4, 2023
12:45-1:45 p.m.
Rutgers–Camden, Campus Center, Multi-Purpose Room
Event Registration:
RSVP required. 
Registration is now closed. If you are interested in attending this lunch and lecture, please email jstrasse@camden.rutgers.edu.
---
Abstract:
Cells are surrounded by membranes that provide protection from the outside world. These membranes are largely composed of molecules called lipids and the particular molecular structures of these lipids give membranes their physiological properties. While most bacterial membranes consist of phospholipids, our lab has focused on a class of molecules called sphingolipids. These bacterial sphingolipids have various physiological functions including mediating host inflammation, cellular differentiation, and protection from environmental stress.  Although these lipids are well studied and found in nearly all plants and animals, the specific biochemical and physiological properties of their bacterial counterparts are poorly understood. Using genetic, biochemical, and bioinformatic approaches, we identified the complete pathway for bacterial sphingolipid synthesis and showed that it evolved independently of the eukaryotic pathway. Current work is being done to elucidate the contribution of these lipids to bacterial outer membrane function as well as characterize these molecules for potential applications in drug delivery.
About Dr. Klein: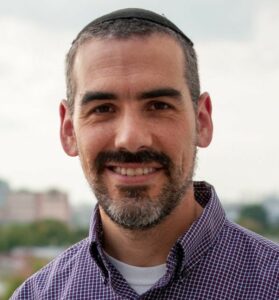 Eric Klein joined the biology department and the Center for Computational and Integrative Biology at Rutgers University–Camden in September 2013. Before coming to Rutgers, He received bachelors degrees in Chemical Engineering and Biochemistry and a Ph.D. in Pharmacology from the University of Pennsylvania where he worked on the mechanical regulation the of mammalian cell cycle. He changed gears for his postdoctoral research and studied bacterial cell shape in Zemer Gitai's lab at Princeton University. Since starting his own research program, he has continued to work on bacterial cell shape and has also ventured out into the mechanical regulation of bacterial pathogenesis. The Klein lab has been funded by several grants from the National Science Foundation, most recently to study the biochemistry and physiology of bacterial sphingolipids. Dr. Klein is currently the Graduate Program Director for the Center for Computational and Integrative Biology. In addition to his research interests, Dr. Klein is engaged in several outreach programs with the LEAP Academy to promote STEM education.
---