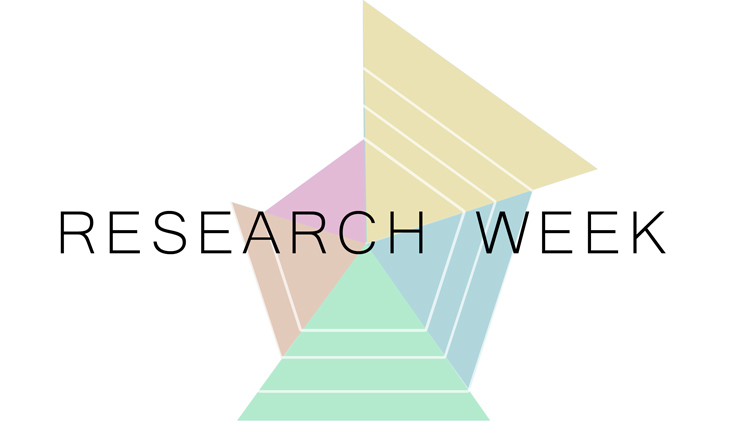 Thursday, April 13, 2017
Time: Free Period
Location: Campus Center Multipurpose Room
The College of Arts and Sciences and University College will again present CURCA, an opportunity to showcase and celebrate your research and creative activity. CURCA is part of the Faculty of Arts and Science–Camden's first annual Research Week, which includes a graduate-level research celebration and a Faculty Research Fellow Lecture.
Research Project Abstracts
Zahra Alkazaz '17, Rachel Andrews '19, Dana Dilapo '18, Lanye Halliday '18, Stacey Heaton '17, Kory Otero '17, Emoni Poteat '18, Michelle Rivera '17, and Valerie Rivera '17
Title of Project: Rutgers–Camden Campus Pride Index 
Chigozie Amugo '17
Title of Project: Determining Calcium Concentration in Milk Using X-Ray Spectroscopy
Fitzroy Campbell Jr. '17
Title of Project: Where Do Non-Black Allies Stand in Black Lives Matter
Rachel Carr '17
Title of Project: A Hidden Ecosystem Service: Terrestrial Arthopods and Food Security
Tianna Carter '17
Title of Project: Adversity, Social Support, and Multi-Domain Competence in the Lives of Mothers Experiencing Homelessness
Joseph Ciurlino '17
Title of Project: The Physical Fictional: Materiality and Reader Response in S. and Building Stories
Anthony Cooper '18
Title of Project: Molecular Modeling of a Probe in 2D IR Spectroscope
Austin Cuttino '20
Title of Project: Creating a Crewdson: Crewdson Reinterpreted
Katrina DeWitt '18
Title of Project: Caught in the Web: Spiders and Their Webs as Bio-Indicators

Major: Biology

Minor: Chemistry

Faculty Mentor: Dr. Angélica González, Assistant Professor of Biology

*Recipient of the Arts and Sciences Dean's Undergraduate Research Grant*

 Air pollution is still one of the most prevalent environmental problems in the world. Three million people die every year worldwide from different respiratory diseases associated with air pollution (M. Adamo, P., Naimo, D., Arienzo, M., Stanzione, D. & Violante, P. 2003. Spatial distribution of heavy metals in urban soils of Naples city 9 Italy. Environmental Pollution 124: 247-256.). Further, the Philadelphia-Camden urban matrix is listed among the most polluted areas in the US, with severe consequences upon population health (American Lung Association). To understand how one can help this issue, one must first be able to tell the concentration of air pollution in an area. However this can be hard to do because bio-monitors are often very expensive or the places involved do not have the correct environment (i.e., sun and water). More recently however, evidence suggests that spider webs may act as useful bio monitors of atmospheric pollution (Hose et al. 2002; Rybak et al. 2012; Rybak & Olejniczak 2014; Ryback 2015). Particular features of spider webs, such as their electrostatic properties would allow them to trap airborne pollutants (Vollrath & Edmonds 2013). This suggests that spider webs may be useful for tracking air pollution, particularly in urban and industrial areas, where lichens and mosses are often missing (Xiao-Li et al. 2006, Rybak et al. 2012). The main goal of this project is to assess the utility of spiders and their webs as indicators of a diverse range of atmospheric pollutants along short and long-time scales, and across spatial gradients of pollution. The results of this project will help decrease the cost of using bio-monitors and will give access to places that normally wouldn't be able to use bio-indicators because of the environmental conditions.

Kevin de Young '17
Title of Project: Identification of Noval Genes Involved in Caulobacter Stalk Synthesis and Regulation

Major: Biology

Faculty Mentor: Dr. Eric Klein, Assistant Professor of Biology

*Recipient of the Sandy Stewart Undergraduate Research Scholarship*

My research is focused on the stalk-forming, Gram-negative bacterium, Caulobacter crescentus. Caulobacter is an important model organism for studying cell cycle regulation, asymmetric cell division, and cellular differentiation. Caulobacter division produces two unique daughter-cell forms. One daughter is a mobile "swarmer" cell that has a single flagellum that provides swimming motility. The other daughter, called the "stalked" cell, has a tubular stalk structure that grows from one pole that has an adhesive end, with which the stalked cell can adhere to surfaces. Although it is well established that Caulobacter stalks dramatically elongate in phosphate-poor conditions, the mechanisms responsible for this stalk synthesis are poorly understood. My research aims to identify novel genes involved in stalk biosynthesis and regulation.

To identify stalk-regulating genes, Caulobacter cells were mutagenized using a chemical mutagen to cause point-mutations randomly throughout the genome. Using high-throughput microscopy methods, we found mutants with a variety of stalk synthesis defects. Interestingly, one of these stalk-defective mutants grows dramatically faster than the wild-type strain when moved from high to low phosphate conditions. Using this phenomenon to our advantage, we intend to create another set of stalk defective mutants via transposon mutagenesis. Once created, I will enrich for the stalk-defective mutant populations by continually transferring the mutant culture back and forth between high and low phosphate conditions. Once the mutants with stalk defects are isolated, they can be used to identify stalk regulatory genes via sequencing and identifying the location of the transposons within the mutant genomes.

Mia Di Lolle '18
Title of Project: Study of the Effect of Food Starvation on the Morphology of the Dorsal Ridge on Drosophila nebulosa eggshells

Major: Biology

Minor: Chemistry

Faculty Mentor: Dr. Nir Yakoby, Associate Professor of Psychology

*Recipient of the Arts and Sciences Dean's Undergraduate Research Grant*

In nature, morphologies evolve to serve functions during animals' development and life span. The Drosophila eggshell is formed by a monolayer of epithelial cells, the follicle cells, engulfing the developing oocyte. The eggshell protects the developing embryo from the environment. At the same time, the eggshell allows for gas exchange through the respiratory dorsal appendages. All species have an operculum, the opening of larvae hatching. Some species, including D. nebulosa, have a lumen-like structure, the dorsal ridge, along the dorsal side of the eggshell. Over an evolutionary time line, the environment instructed the formation of the dorsal. I am focusing on the effect of food starvation as an environmental stressor on eggshell morphologies.  Three different amounts of food (yeast paste) were used: 1) 0 mg, 2) 1.4 mg, 3) 7.0 mg. Random eggshells were collected from each treatment. The ratio between the length of the dorsal ridge and the length of the egg was not statistically significant different between the treatments. Since the dorsal ridge is regulated by EGFR signaling, we conclude that the epidermal growth factor receptor signaling pathway is not affected by starvation. We noticed a trend in the size of the operculum. The operculum size was 150 ?m, 151.7 ?m, and 155.5 ?m for the 0, 1.4 and 7 mg, respectively.  Operculum size is determined by the bone morphogenetic protein (BMP) signaling pathway. BMP signaling was reported to be affected by the fly's food content. While these differences are not statistically significant (p=0.38), we will increase the number of examined eggshells to determine if this trend is a significant result.

Morgan Dwyer '18
Title of Project: Characterizing the Quantitative Genetic Elements of Conidiation in Neurospora crassa

Major: Biology

Faculty Mentor: Dr. Kwangwon Lee, Associate Professor of Biology

*Recipient of the Arts and Sciences Dean's Undergraduate Research Grant* 

This project investigates the quantitative genetic elements of conidiation in the model fungus Neurospora crassa through both genotyping and phenotyping. There is a biomedical and agricultural approach to this research as fungal spores can spread disease to humans and crops. Through phenotyping, the number of conidia can be counted to obtain quantitative data for this trait of interest. Because the parent strains and F1 population we are working with are characterized, a quantitative trait loci could be performed to determine what regions of a specific chromosome are associated with the phenotype of high numbers of conidia. We found that chromosome 1 has a region with 600 possible genes. This region is too large to further investigate so we pick the F1 strain with the highest number of conidia, and backcross it to the parent that produces less conidia to eliminate background, while still preserving the allele for high numbers of conidia. Through this process, we create a new population. Through phenotyping, which involves the counting of spores, we can see if these new strains produce abundant conidia. Through the molecular assay called CAPS, or cleaved amplified polymorphic sequences, and knowledge of the single nucleotide polymorphisms between the two parent strains, we can determine what genotype the progeny strains have at a given marker. The ideal candidate for further backcrossing will be a strain that produces high numbers of conidia and has the genotype of the parent that produces high numbers of conidia. After several backcrosses, we hope to narrow down the quantitative trait loci region to identify some candidate genes responsible for the ability of fungi to produce abundant conidia.

William Epstein '17
Title of Project: Write it Off: Gender and Technology in the Writing Center

Major: English

Faculty Mentor: Mr. Travis DuBose, Teaching Instructor of English

*Recipient of the Arts and Sciences Dean's Undergraduate Conference Travel Grant* 

Contemporary writing courses are showing an increasing use of digital and multimodal assignments.  These assignments require a group of peer learner and tutors who are trained and able to detail these digital compositions to students.  However, it has been observed by scholars in both the writing center field as well as the social sciences that tutors are being treated differently depending on the gender of the tutor.  How can the Writing Center fulfill its mission statement of creating better writers if the students promoting this statement aren't all treated with the same level of respect?

My research looks to detail this difference in treatment by asking, and answering, the question: In a multi-literacy writing center, do students with technology-based papers engage differently with tutors depending on tutor gender?  I will be employing a mix of session observations and recordings to categorize the body and vocal language of both tutor and tutee to find common trends in their treatments.  Additionally, I will be conducting interviews to get first-hand accounts from tutor and tutee to see how each party feels they have been treated, and how they have treated the other.

Fatima Nur Er '18
Title of Project: On the Occurrence of Mixed Synapses: The Source

Major: Biology

Minor: Religion

Faculty Mentor: Dr. William Saidel, Associate Professor of Biology

*Recipient of the Arts and Sciences Dean's Undergraduate Research Grant*

I am looking for a specific type of synapse in the brain of Swordtail fish.  This synapse is a mixed synapse of both electrical and chemical happening at the same time, found originally in nucleus rostrolateralis (RL).  There are two pathways that connect to the RL, both optic tectum and retina have lateral synapses connecting them to the RL.  The three main regions that are being looked into are the retina, the optic tectum, and the nucleus interpedunularis.

Michael Feeney '17
Title of Project: Psychology and the Study of Behavior? A Content Analysis of the Use of Behavior in Personality Journals from 2011-2015

Majors: Philosophy and Psychology

Minor: Ethics

Faculty Mentor: Dr. Chris Nave, Assistant Professor of Psychology

*Recipient of the Arts and Sciences Dean's Undergraduate Conference Travel Grant*

Behavior is critical to the definition and assessment of psychology yet has been underutilized in personality and social psychology research. The current study updates and extends a content analysis of behavioral content in personality journals by Furr (2009). Articles  (N = 669) published in four personality journals: Journal of Research in Personality, European Journal of Personality, Journal of Personality, and the Journal of Personality and Social Psychology during  2011, 2013, and 2015 were examined for behavioral content. Approximately 35% of articles contained behavioral measures in any given year, with changes in behavioral content from 2011 to 2015 ranging from -7% to +8% among the journals. Direct behavioral observation was utilized, on average 5% of the time in 2011 articles, and 7% of the time in 2015 articles. Direct behavioral observation represented approximately 16% of total articles involving behavioral data. Implications and other findings from the content analysis will be discussed.

Kimberly Flores '19
Title of Project: Two Faces of the Immigrant Experience: Journeys across the Mexico-US Border

Majors: Management and Marketing

Faculty Mentor: Dr. Mauricio Castillo, Teaching Instructor of Spanish

This project involves a Twine story game incorporating how immigration in the past is not that different from immigration happening today. The purpose of my research is to call attention to how immigration might be overlooked as an illegal crime and to understand why immigrants migrate. Through the digital game, a player will see themselves in the shoes of two types of immigrants: a female Mexican immigrant in today's world and an Anglo-American immigrant in the 1800s.  The goal is to show that immigrants migrate to a different place for better life opportunities than what their native country has to offer. To be successful in the game, the player must understand the actions of the immigrant.

Jacob Foster '17
Title of Project: The Psychology of Gesture in Contemporary Art

Major: Art – Painting

Minors: Business Administration and Museum Studies

Faculty Mentor: Ms. Margery Amdur, Associate Professor of Art

*Recipient of the Arts and Sciences Dean's Undergraduate Research Grant*

Painting (especially painting of the human form), has been reported dead since the inception of photography. Twenty-five years ago, figure painting was taboo in the fine art world.  However, this year, important art institutions like MoMA purchased work from living figure painters.   In 2015, Nicole Eisenman (a figure painter) was awarded the prestigious MacArthur Fellowship. Figure painting has undoubtedly made a resurgence. Even within our academic community, all three of our painting majors who exhibited in the 2016 Senior Thesis worked with the figure.  And all three created fascinating work.  This is because (despite over a millennia of figure painting), there is still so much to be explored.  The figure persists as the single most important subject in art.

This semester, I investigated how people interact with one another.  The psychology of gesture between two figures in a work of art ignites one's imagination.  Images like these invite the viewer to create a dialogue.  We have a tendency to interpret every nuance of a facial expression and body language.  And though I leave many of these visual cues, much is left unsaid.  Thus, the viewer is invited to be creative with their interpretations.  

Though I didn't plan on it, my primary source quickly became my own family photographs.  As my own property, I felt I had an ownership and authority to be able to use these images.  The figures in these photos contain elements of un-posed gesture and authentic interaction.  These photos are completely unlike any that we take today.  In the early 1990s, film cameras didn't allow for deletion.  And today, many people are more camera-conscious because they worry about their image on social media.

Making contemporary paintings with these photographs also brought up many issues of bringing my private family-life into my art.  I also started to view this body of work as a form of self-portraiture.  In a way, this series is also about nostalgia and memory.

Danielle Genay '17
Title of Project: Do Nectar and Insect Frass Modify Interactions between Fungus Farming Ants and Plants?

Major: Biology

Faculty Mentor: Dr. Amy Savage, Assistant Professor of Biology

*Recipient of the Arts and Sciences Dean's Undergraduate Research Grant*

Ants dominant several terrestrial ecosystems, affecting many ecological processes and producing various ecosystem services worldwide. They have important roles in habitats as seed dispersers, primary consumers, predators, and/or fungus gardeners. Fungus farming ants have a mutualistic relationship with gongylidia-bearing fungi. The fungus provides a continuous supply of food for the ant brood, while the ants give fungus nutrients and protection. Although fungus farming ants' behaviors range in specificity, most studies have focused on the most specialized group, the leaf cutters, due to their destructive and damaging effects found in agricultural fields and forests. However, very little is known about non-leaf-cutting fungus farming ants' relationship to plant community. Trachymyrmex is a fungus farming ant genus that is a sister group to leaf cutter ants. They are important herbivores, although the impacts of this herbivory on forests and crops are still vastly understudied. These ants' role as specialized herbivores is likely to exert strong herbivore pressure on plants and to be potentially damaging to plants in any forests where they nest. T. septentrionalis feeds mainly on the fruiting bodies of their fungal gardens; and they tend to their gardens with a variety of plant foods: including oak catkins (their favored substrate), leaves, flowers and pulp seeds. In addition, they supply their fungal diets by feeding on frass, fruits, nectar, and hemipteran honeydew. However, we do not understand how these diet subsidies influence interactions between T. septentrionalis and oak trees. In this study, I investigate how readily T. septentrionalis in the NJ Pinelands collect sugar water and/or caterpillar frass and how do these different nutrient subsidies influence the herbivore pressure that T. septentrionalis exert on oak catkins in the NJ Pinelands.

Chris Gillespie '17 and Andre Smith '18
Title of Project: Quadrilateral Construction Given Fixed Edge Lengths

Majors: Computer Science

Faculty Mentor: Dr. Suneeta Ramaswami, Professor of Computer Science

The generation of quadrilateral meshes with provable quality guarantees has many practical applications in fields such as computer graphics, medical imaging and finite element (FE) analysis.  One such quality guarantee is a bound on the aspect ratio of each quadrilateral (quad). The focus of this project is on measuring the aspect ratio of strictly convex quadrilaterals in a quad mesh. When measuring aspect ratio, a widely used metric is the ratio of the longest edge to the shortest edge.  This measure is simple to implement, but does not account for the interior angles of the quad, and may in some cases produce a good aspect ratio for quadrilaterals with poor angles. John Robinson developed an alternative method for computing aspect ratio, which takes both edge lengths and angles into account during calculation.  It is not immediately obvious how changes in angles and edge lengths affect the Robinson's aspect ratio measure. The focus of this project is to study how varying the angles of quads of given fixed edge lengths will affect Robinson's aspect ratio. We develop code to generate a sequence of convex quadrilaterals with varying angles given four input edge lengths and measure Robinson's aspect for all generated quads and produce line graphs detailing the change in aspect ratio over the sequence. With these results we aim to more fully understand the Robinson's measure for aspect ratio calculation, specifically the effect of varying angles for a given set of edge lengths. We hope this will advance our ultimate goal of giving an algorithm to generate a quad mesh with a provable guarantee on the aspect ratio.

Desiree Harris '17
Title of Project: Experiences Leading to Homelessness: Effects of Age on Young Children

Major: Psychology

Faculty Mentor: Dr. JJ Cutuli, Assistant Professor of Psychology

*Recipient of the Arts and Sciences Dean's Undergraduate Conference Travel Grant*

Homeless families frequently experience other adversities before entering shelter that contribute to poor developmental outcomes. Yet, many families show resilience. This study examined links between reason for shelter entry, positive parenting attitudes, child demographic characteristics, and social-emotional problems among families experiencing homelessness.

Families with young children use emergency housing for many different reasons. Some are best thought of as chronic stressors related to low-income, like not being able to afford rent or needing to leave substandard housing. Some involve violent and potentially traumatic experiences, such as domestic or community violence. Still, positive parenting is a well-established protective factor that can shield children from the negative influences of trauma.

We hypothesized that children whose families came to shelter following a violent event would be at greater risk for social-emotional problems than children whose families sought shelter for other reasons. Furthermore, we expected that higher levels of positive parenting attitudes would act as a protective factor, moderating the relation between violence and social-emotional problems. Child gender and age were included as covariates.

Forty-six families contributed complete data. Slightly more children were male (56.5%). Nearly a third of families (32.6%) entered shelter because of experiencing violence. Based on parents' responses to the ASQ-SE, 20 (46%) children's scores were in the range indicative of risk for social-emotional problems.

A binary logistic regression tested for effects of child age (months), child sex, an interaction effect of positive parenting attitudes (continuous AAPI-2 score) and reason for entering shelter, and associated lower-order terms on whether children scored as at-risk for social-emotional problems. Only child age significantly predicted higher.

Older infants and toddlers staying in emergency family shelters were at higher risk for social-emotional problems. About a third of families had recently experienced violence, and nearly half of children were showing elevated levels of social-emotional problems. The reason the family entered shelter and positive parenting attitudes were not related to whether children were at-risk.

Rosaura Hernandez '17
Title of Project: An Examination of Self-Esteem, Quality of Life, and Body Satisfaction among Chronically Ill and Healthy Adults

Major: Psychology

Minors: Latin American Studies and Spanish

Faculty Mentor: Dr. Charlotte Markey, Professor of Psychology

Although chronic illnesses affect more than 117 million people, and are a leading cause for death and disability in the United States, they remain poorly defined and misunderstood by multiple health and academic communities (Bernell & Howard, 2016; Joachim & Acorn, 2000). Symptoms due to these illnesses, combined with this lack of understanding, negatively affect the quality of life of those affected (Albrecht et al., 2000).  Greater understanding of chronic illnesses is needed to improve the physical and psychological well-being of affected individuals.

Research suggests that quality of life does not only suffer when coping with a chronic illness, self-esteem and body image can also be affected (Albrecht et al., 2000; Bazarganipour et al., 2013).  The aim of this study is to consider these three outcomes and gain a better understanding of their complex associations with chronic illnesses. We expected that individuals with chronic illnesses would be more likely than those without, to report lower levels of quality of life, self-esteem, and body image. We expected that the strength of these associations would be moderated by the severity and duration of the chronic condition.

Eighty participants, 40 with a chronic illness and 40 without, (age range: 18-75) participated in this study. For this study, participants were recruited online.  Participants were asked to complete a questionnaire on Rosenberg's Self-Esteem Scale (1965), Thompson and Gray's Contour Drawing Rating Scale (CDRS; 1995), the Centers for Disease Control health related quality of life survey (HRQOL; 2016), and the World Health Organization's quality of life survey (WHOQOL; 1998).

Independent samples t tests were used to compare chronically ill participants and healthy participants on the outcomes of interest.  For the most part, our hypotheses were confirmed: participants with a chronic illness reported lower quality of life, lower self-esteem and less body satisfaction. Illness severity moderated the relationship between chronic illness status and quality of life (all interaction ps < .05), with participants with more severe conditions reporting lower quality of life. These findings highlight the presence of physical and psychological health concerns among chronically ill individuals and highlight avenues for improving the well-being of those affected.

Matthew Higgins '17
Title of Project: 13

Major: Art – Graphic Design

Minor: Digital Studies

Faculty Mentor: Mr. Allan Espiritu, Associate Professor of Art

This research was conducted last spring for my graphic design thesis. My thesis used Krav Maga to explore the effect of rules and constraints on the design process. Krav Maga is a self-defense system designed for functionality and effectiveness. It accomplishes by streamlining the system to a set of 13 main attacks. These attacks are used and reused as a sort of modular system. Two questions were proposed: How would this thinking effect graphic design? Could a fight make a design? To answer these questions I created 13 rules, each connected to one of Krav Maga's 13 attacks, and employed them to make work. These design rules dictated choices such as color, placement, shape and typeface. For any given project, rules would be selected by performing a fight with my Krav Maga instructor. When one of the 13 attacks was used in the fight, the corresponding design rule was used in the design. This process challenged the notion that design only occurs in front of a computer via software. Instead, design can be performative. The process was applied to books, posters, catalogs and installation pieces.

Grace Houmba Loussakou '17
Title of Project: Changes in the Forebrain of Goldfish with Learning

Major: Biology

Faculty Mentor: Dr. William Saidel, Associate Professor of Biology

*Recipient of the Arts and Sciences Dean's Undergraduate Research Grant*

Cytochrome oxidase histochemistry was used to map metabolic changes in the forebrain of the goldfish after learning a visual task. This study focus on areas of the goldfish brain associated with learning behaviors. Reasearchers have been debating the homology of the mammalian hippocampus in the forebrain of Carassius auratus. Neuroscience literature suggests that the lateral division of area dorsalis (DL) in the Carassius auratus pallium is comprised of various subdivisions. Some comparative neuroanatomy claim that the entire DL (dorsal and ventral subdivisions of the lateral division of area dorsalis (Dld),(Dlv)) correspond to the hippocampus in tetrapods. Other neurophysiology research identified only Dlv as the hippocampal homolog. This identification is based on developmental topology. An individual goldfish was trained to a model feeding behavior. A fish took 4-5 trials to reach criterion (John Rapacz, MS candidate). Both trained and naive goldfish were anesthetized using MS-222, prior to tissue preparation.  The brain was sectioned and then cytochemically reacted to express a reaction for cytochrome oxidase. Newly activated regions of brain reacted more intensely than the corresponding areas in the naïve fish. These areas corresponded to either the hippocampus or the dorsal pallium where the memory circuit was stored (according to the theory of D.O. Hebb).  I suspect the areas of Dlv that show increased staining correspond to the many thousands of neurons that represent the memory trace, not the hippocampus.

Ashley Lewis '17
Title of Project: Brain Regions Active during Female Orgasm

Majors: Biology and Philosophy

Minor: Psychology

Faculty Mentor: Dr. Barry Komisaruk, Professor II of Biology – Rutgers–Newark

*Recipient of the Sandy Stewart Undergraduate Research Scholarship*

Our lab's aim is to use fMRI to study the brain activations associated with orgasm through a localized analysis. This project is first to characterize the functional brain activity of orgasm by region of interest. This is a novel for the ROI analysis technique has not been applied to orgasm fMRI studies previously and will allow for more precise characterization of the brain regions responsible in orgasm. There was a total of ten female subjects with an age range of 29-74 and all self-described as highly orgasmic. The data was collected in two sessions, one where the subjects self-stimulated and the other where subjects were stimulated by their partners until orgasm. Our results indicate differential brain activation when comparing orgasm to resting states. Much of the significant activation resides in the cortical regions, such as the parietal, temporal and frontal lobes. The sensory cortex, the post-central gyrus of the parietal lobe, was especially active during orgasm. When ROI analysis was performed, additional activation was observed bilaterally in the caudate and the anterior and posterior regions of the cingulate cortex. The former region likely aid in coordinating the skeletal muscle contractions of the vagina during orgasm and the latter regions are likely involved in the reward and hedonic dimension of orgasm. Through this analysis, new brain regions have been elucidated as being critical for orgasmic response and a more precise characterization of the central nervous system's involvement in sexual response has been achieved.

Laura Malek '17
Title of Project: The Effects of Alcohol Content on the Formation of Beta Sheet Structures in Regenerated Silk-Cellulose Biomaterials from Ionic Liquids

Major: Chemistry

Minor: Biology

Faculty Mentor: Dr. David Salas-de la Cruz, Assistant Professor of Chemistry

Ionic liquids are salts with poorly coordinated ions and are known for being designer solvents. 1-Ethyl-3-methyl imidazolium chloride (EMIMCl) is being used as a solvent to regenerate blended films with cellulose and Mori silk.  Silk and cellulose are chosen due to their nontoxicity and natural biomaterial characteristics.  Cellulose also provides adhesion capabilities and is a tough, durable structure that is needed to make the films.   When these materials are heated and mixed on a hot plate for 24 hours, all of the hydrogen bonds are disrupted causing dissolution into one uniform solution.  This solution is transferred onto glass slides and submerged into varying ethanol concentrations (0%, 25%, 50%, and 75%) to solidify the film and extract out the EMIMCl solvent. When this solution comes together and coagulates, new hydrogen bonds are formed.  An increase in ethanol percentages has shown to cause an increase in beta-sheet formations up until 75% ethanol.  At the highest concentration, it seems to switch to an increase in alpha-helices formations. Scanning Electron Microscopic (SEM) images were taken of these films and it was found that as the ethanol concentration increases, the rigidity of the film also increases. Also, as ethanol increased the percent weight change decreases reassembling the composition of pure Mori silk, which is one of its components. 

Leah Mena '17
Title of Project: Kagutsuchi: Yukiko's Love

Major: Art

Minor: English

Faculty Mentors: Dr. Robert Emmons, Assistant Teaching Professor of Art, and Mr. Bruce Garrity, Lecturer of Art

*Recipient of the Arts and Sciences Dean's Undergraduate Research Grant*

My comic book is being created in various stages. I wrote a rough outline, followed by a detailed script, and then I created a rough story board. After that, I am working on the final draft. I am drawing the final draft on B4 (10 x 14 inch) paper made specifically for comic books. After I sketch it, I am inking it with a dip pen. After that, instead of adding color, I am creating shading effects using screen tones. These are like clear stickers with patterns on them that are put on the paper to create gray-scale shades. After everything is finished using traditional tools, I am photographing the pages to edit them and add text on Adobe Photoshop.

Once my work is complete, I will send my digitized pages to ka-blam.com. This website will make professionally printed books out of the pages I sent. Once printed, the books will consist of about 20 pages, shrunken down to 6 ½ by 10 inches. The comic will be printed in right-to-left format, like a Japanese book. This is because of the Japanese setting of the story. It also reflects my interest in and inspiration from manga (Japanese comic books).

Marina Mikheil '18 and Nguyen Nguyen '18
Title of Project: Eggshell Structures in Drosophiladae: Function and Development

Majors: Biology

Faculty Mentor: Dr. Nir Yakoby, Associate Professor of Biology

*Recipients of the Arts and Sciences Dean's Undergraduate Research Grant*

Morphological diversity is exhibited throughout nature; however, the underlying developmental mechanisms are not understood.  While the Drosophila eggshells are morphologically diverse among species, the mechanisms controlling structural variation are mostly unexplored.  Drosophila is a model system used to study biological processes, including tissue patterning and morphogenesis.  The Drosophila eggshell, which houses the developing embryo, is secreted by a monolayer of epithelial cells, the follicle cells, engulfing the growing oocyte.  Numerous signaling pathways control the development of eggshell structures, including the epidermal growth factor receptor (EGFR).  These structures include the respiratory dorsal appendages, operculum, and in some Drosophila species the dorsal ridge.  Closely related flies, including members of the Scaptomyza genus, possess lumen-like respiratory stripe.  It was shown that changes of EGFR signaling can perturb proper formation of these structures.  Here, we examined the eggshells of three species: D. melanogaster (no dorsal ridge and no respiratory stripe); D. nebulosa (as a dorsal ridge); and S. elmoi (as a respiratory stripe).  Embryos develop externally after egg laying.  We examined different traits of the eggshells.  We found that eggshells differentially float in water by retaining air in the eggshell and/or dorsal appendages.  Using a tetrathiomolybdate (TTM), a known copper chelator and an EGFR inhibitor, we demonstrated that the disruption of EGFR signaling generates defects in eggshell structures, including in the dorsal appendages, operculum, dorsal ridge, and respiratory stripe.  These defects are in agreement with the eggshells obtained by the disruptions of EGFR signaling.  We also monitored changes in a marker of future dorsal ridge formation Fasciclin-III.

Anna Moorhouse '19
Title of Project: Laser-Induced Nanoparticles Restructuring Studied at the Single-Particle Level

Major: Physics

Faculty Mentor: Dr. Sean O'Malley, Associate Professor of Physics

The incorporation of nanoparticles has proven to be beneficial in a number of systems spanning from drug-delivering vesicles to water-splitting photocatalytic surfaces. This study takes advantage of a newly acquired microscope system integrated with an ultra-fast laser to investigate how nanoparticles restructure under intense laser pulses. The experimental aspect of the study involves coating a transparent substrate with gold nanoparticles, 80nm or larger, and then placing them in a liquid environment where single particles are singled out using darkfield microscopy and irradiated by laser pulse. Particle shape and size will be determined by atomic force microscopy (AFM) and scanning electron microscopy (SEM). The results attained will be useful for determining intensity limits for in-vivo drug delivery and for laser fusion of nanoparticles on surfaces.

Brian O'Rourke '17
Title of Project: The Curious Case of Sydney Gruson

Major: History

Faculty Mentor: Dr. Lorrin Thomas, Associate Professor of History

*Recipient of the Arts and Sciences Dean's Undergraduate Research Grant*

Sydney Gruson was the Latin American correspondent for The New York Times in the first half of the 1950s.  He was in charge of covering all of Latin America, including Guatemala.  In 1944, Guatemalans elected their first democratically-elected government.  The people hoped that President Arevalo would be able to solve serious societal problems such as education, land, and monetary inequities.  By the beginning of the 1950s, some of these issues had begun to be dealt with, but the largest problem, land inequality and lack of access to land, still needed to be addressed.  New president Jacobo Arbenz identified the culprit as United Fruit Company.  Their banana plantations owned an enormous percentage of land in Guatemala, much of which was fallow.  Arbenz passed a land reform act expropriating some of this fallow land.  Gruson wrote several articles about Arbenz's expropriation, which offended Arbenz.  In February of 1954, Arbenz expelled Gruson from Guatemala.

At this time, the United States was obsessed with the threat of communism.  One of Arbenz's close advisors was a communist, and there were several, though not more than ten, in the Guatemalan Congress.  President Eisenhower and the CIA believed this was a threat to the United States' domination of the Americas and began to plan a CIA-sponsored coup.  As the rebels were being trained and preparing to overthrow the Guatemalan government in June of 1954, Gruson was let back into Guatemala.  He wrote a series of articles about the changing views of the Guatemalan people, in regards to the United States, and his articles angered the CIA, who derided "his fifty-fifty reporting."  The Gruson problem was discussed at a National Security Council meeting with President Eisenhower and his top advisors, and they decided to approach New York Times editor Arthur Sulzberger to ask for Gruson's removal from Guatemala. 

The Gruson situation is the perfect lens with which to view the obsessions of each side in this conflict: Arbenz's desire for land for his people, which was controlled by United Fruit Company, and the United States' fear of communism.

Merve Ozbas '18
Title of Project: Analysis of Varients in Tumor Genomes

Major: Biology

Faculty Mentor: Dr. Andrey Grigoriev, Professor of Biology

*Recipient of the Arts and Sciences Dean's Undergraduate Research Grant*

Next-generation technologies (NGS) are ever evolving to provide low cost and quick rate DNA and RNA sequencing abilities. NGS technologies can be specifically used to detect and analyze various genetic variants, which are inherited alterations in genes such as deletions and duplications. Different genetic variants can be identified through comparison to a sequences from a reference genome. The issue remains with the precision and reliability of detection of these variants using noisy NGS data. The overall challenge for our research was to identify variants that are reoccurring in cancerous tumors. Using visual next-generation sequencing, we are comparing large sets of genetic sequences to a reference sample and validating predictions made by GROM, the algorithm being developed in Dr. Grigoriev's lab. By doing so, we will be able to find common genetic variants in the tumors to analyze and compile. In order to find repetitive and common variants each set of tumor sample genomes will be sequenced in the Integrative Genomics Viewer (IGV), a visualization tool that supports next-generation sequence data, and go through exome analysis, a technique for sequencing expressed genes. The aim of the project is to validate true positive variant predictions using the IGV and to use these variants to help develop and test the algorithms accurately predicting genome variants.

Adriana Pereira '17
Title of Project: Aptamer-Switched DNA Logic Gate for Biosensing

Major: Chemistry

Faculty Mentor: Dr. Jinglin Fu, Associate Professor of Chemistry

*Recipient of the Arts and Sciences Dean's Undergraduate Research Grant*

A DNA circuit is actualized by implementing a structure-switching aptamer into a DNA logic gate. The DNA nanostructure can sense the presence of specific bio-targets, and subsequently release a catalytic swinging arm for signal production. The overall circuit consists of 3 single-stranded DNA molecules that hybridize together into a stable nanostructure in solution. The incorporated aptamer specifically binds to an adenosine target, with triggered opening of a swinging arm hairpin.  The switched structure can be characterized by gel electrophoresis. The aptamer-target binding actuates the release of a cofactor arm that can interact with an enzyme with close proximity, resulting in the activated enzyme reaction. This reaction can be coupled with a colorimetric PMS-Resazurin assay with strongly fluorescent signals to detect the presence of the target molecule. The project has many applications and is very customizable to a variety of target biological molecules, due to the wide range of aptamers specific to molecules that are available. When coupled with a paper-based detection system, which allows for an easy-to-read, color-change detection method, the simplicity of the detection invites many possibilities for quick and accurate detection of target biological molecules of low concentrations in non-clinical settings.

Michael C. Picardi '18
Title of Project: Achieving Egalitarianism through Changes in Liberalism, Libertarianism, and the Mind

Majors: Philosophy and Political Science

Faculty Mentor: Dr. Melissa Yates, Assistant Professor of Philosophy

The research will build a philosophical conception of comparing Analytical Marxism with Liberalism and particular forms of Libertarianism; compatibility of Marxism versus regulated capitalist and laissez faire models; and evolution of consciousness required for Marxist Society. Within this project, I will compare contemporary Analytical Marxist Philosophy with works stemming from successors of John Rawls and Robert Nozick. Additionally, I will explain the types of changes towards collective society, which contemporary Marxists feel are required, in order to achieve a post-scarcity society and egalitarianism. Research will vary from describing economic models, such as market socialism, to more metaphysical conceptions of change within the human mind.

Mary Pollard '18
Title of Project: How Writing Centers Impact First-Generation College Students

Major: English

Minor: Psychology

Faculty Mentor: Mr. Travis DuBose, Teaching Instructor of English

*Recipient of the Arts and Sciences Dean's Undergraduate Conference Travel Grant*

This study followed a select group of three first-generation college students from the cohort of incoming first-year students, and observed how their writing ability and their confidence in writing changed or stayed constant over the semester.  By tracking their experience in English Composition and in writing center sessions, we will analyze how our writing center affected their writing experience.

First, we conducted interviews throughout the fall semester to track their writing profess in English Composition.  Participants also handed in their writing assignments to researchers, along with the grade it received. 

Then, we compared their confidence in their writing at the beginning of the semester to their confidence at the end of the semester.  As we did that we included the self-reported anecdotal data they gave us during interviews to analyze what assistance resulted in an increase in confidence, as well as difficulties that resulted in a decrease in confidence for the graded assignments.

The goal of this research is to find out what best practices the writing lab can start to use to fully aid first-generation college students in writing courses.  We want to use the feedback from the participants, so that we can see if there is a need to train writing consultants for this specific population.

Markers of improvement will be drawn from the WPA Outcomes Statement for First-Year Composition.  We are observing the development in responding to a variety of situations and purposeful shifts in voice, tone, level of formality, design, and structure.  Also, we are analyzing the developed knowledge of linguistic structures, and knowledge of conventions, specifically common formats for different kinds of compositions.

Radha Prabakaran '17
Title of Project: They Tried to Bury Us: Grassroots Organizing in High Education

Majors: Childhood Studies and Social Work

Minor: Women's and Gender Studies

*Recipient of the Arts and Sciences Dean's Undergraduate Conference Travel Grant*

College offers a platform for self-growth as much as academics; because of this it has always been a prominent platform for grassroots activism.  However, limitations imposed on the student come in the form of social position, academic responsibility, athletic career, and other real or perceived limitations.  In response to this, college organizing is dynamic, calling students to organize in a myriad of direct and indirect ways. Students with positions on campus may create programming or push to bring institutional change, students may lead direct actions, students may even use their platforms to encourage and engage others; thus, the nature of college activism becomes one of resistance. This begs three central questions:  Which role is more critical: Student or organizer – the duty to the self or to the institution? How can students reconcile their academic obligations with their activism? Lastly, how can they utilize the resources and framework made available to them by their institution? I will focus on several different approaches to grassroots organizing and how to effectively execute them in a collegiate setting. 

Kadeem Pratt '17
Title of Project: Uninsured Teens, Dropout Rates, and Persistent Poverty

Major: Urban Studies

Faculty Mentor: Mr. Zachary Wood, Assistant Teaching Professor of Urban Studies

*Recipient of the Arts and Sciences Dean's Undergraduate Conference Travel Grant*

There exists an untold story that gives insight to why decreasing retention rates in American schools are declining.  This story is best told by examining data of uninsured teens. My research highlights the trends of uninsured teens to reveal that an overwhelming majority of states with greater than 5% (*this statistic does not account for population density youth per square mile) of teens medically uninsured are more likely to report significantly lower retention rates. Analyzing data from the opposing end proved the latter claim true by revealing states reporting less than 5% of teens medically uninsured (*this statistic does not account for population density youth per square mile) were likely to report dramatically higher retention rates. Therefore it is evidence to support the claim that a correlation does exist between medically uninsured teens and retention rates. Using GIS modeling and statistical analysis it was revealed on county level that areas with greater populations of uninsured youth will reflect lower retention. Areas with large populations of students receiving free lunch demonstrated lower retention rates than other counties with the same state. Concentration pockets were identified relative to places where students received free lunch, as well as places where 5% of teens were excluded from the public and private healthcare market.

Dmitriy Prokopovich '18
Title of Project: Impact of Phosphorylation and Pseudo-Phosphorylation on the Stages of Aggregation of the Microtubule Associated Protein Tau

Majors: Biology and Chemistry

Faculty Mentor: Dr. Luca Larini, Assistant Professor of Physics

This study focuses on the effect of pseudo-phosphorylation and phosphorylation on the aggregation of protein tau. Tau is very often found interacting with microtubules in the neuron and within the axon of the neuron, tau governs the assembly of microtubules that make up the cytoskeleton. This is important for stabilization of and transport across the microtubules. One of the indications of the Alzheimer's disease is the hyper-phosphorylation and aggregation of protein tau into neurofibrillary tangles that eventually destroy the neurons. But experts in the field do not know if hyper-phosphorylation directly causes the aggregation of tau. Some experiments use pseudo-phosphorylation to mimic the effects of phosphorylation. This is done by mutating certain residues of the protein chain into charged residues. In this study, we will use a fragment of tau called PHF43. This fragment belongs to the microtubule binding region and publications have indicated that it readily aggregates. Replica exchange molecular dynamics simulations were performed on the pseudo-phosphorylated, phosphorylated, and dimerized PHF43. The program used to simulate and analyze the segment of tau was AMBER14.  

Giselle Ramos Rivera '17
Title of Project: Spanglish in New Jersey: Examining Latino's Perceptions and Usage

Majors: Sociology and Spanish

Faculty Mentor: Dr. Silvia Perez-Cortes, Assistant Professor of Spanish

With more than 400 million Spanish-speaking individuals in the world, Spanish is the second most spoken language after Chinese and English (Potowski & Escobar 2015). Largely spoken across Latin American countries and Spain, this language has a prominent presence in the United States where approximately 52 million people are of Hispanic descent, 74% of which are older than the age of five (Escobar and Potowski, 2015:2).

Spanish is the most spoken minority language within the US (18.2%; López & Gonzalez-Barrera, 2013) and it's heavily influenced by English, which is the majority language in the country. The interaction between these two codes, known as Spanglish, has been investigated by anthropologists and linguistics (Potowski & Escobar, 2015, Morales, 2002, Ardila, 2002, Callahan, 2002, Lipski, 2004). This investigation will examine the evolution of the phenomenon, as well as its evolution in the last decades. Local individuals of Hispanic origin living in the New Jersey area will be interviewed to gauge how they define, perceive and use Spanglish in their professional and personal lives.

Abby Robinson '17
Title of Project: Gold Nanoparticle Mediated Rupture of Polymersomes Using Ultrafast Single Pulse Irradiation

Major: Chemistry

Faculty Mentors: Dr. Julianne Griepenburg, Teaching Instructor of Physics; Dr. Daniel Bubb, Professor of Physics, and Dr. Sean O'Malley, Associate Professor of Physics

*Recipient of the Arts and Sciences Dean's Undergraduate Research Grant*

The self-assembly of amiphiphilic di-block copolymers into polymeric vesicles, commonly known as polymersomes, is an area of high interest in research due to the versatility of potential applications, namely, drug delivery and micro-reactors.  These fully synthetic, robust vesicles are composed of a hydrophobic membrane and a hydrophilic core; this provides the ability for dual-encapsulation of a variety of molecules.  Our studies seek to develop methods for triggered release using ultrafast, single-pulse irradiation with visible and near infrared light to provide a non-invasive method of achieving spatial and temporal control.  We have shown that the incorporation of gold nanoparticles (AuNP) within the vesicle membrane or core provides wavelength specific vesicle rupture at 532 nm.  The release profile can be tuned depending on the laser fluence and location of the nanoparticles, and the release wavelength can be altered by changing nanoparticle characteristics.  This project is unique as it is multidisciplinary, uniting chemical and physical sciences and ultimately has applications in biological studies. 

Dominic Scola '19 and Peter Ho '17  
Title of Project: Generating Quadrilaterals with a Given Set of Angles

Majors: Computer Science

Faculty Mentor: Dr. Suneeta Ramaswami, Professor of Computer Science

Guaranteed-quality quadrilateral mesh generation is an important problem with many practical applications in computer graphics, computer-aided design and manufacturing, and finite element analysis. Typical criteria for measuring quality include minimum and maximum angles of the quadrilateral elements, mesh size, and quadrilateral aspect ratio. This project focuses on one particular method to measure quad aspect ratio, known as Robinson's method, which is a favored approach because it takes quad angles as well as edge lengths into account. However, the precise nature of the relationship between edge lengths and angles in Robinson's method is not well understood. The objective of this project is to experimentally identify, for a given set of four angles that form a convex quadrilateral, the edge lengths that give the best Robinson's aspect ratio. We carried out the experiment by giving Python implementations of two different methods to generate a sequence of quadrilaterals with varying edge lengths for the given set of angles, and plotting Robinson's aspect ratio for this sequence of quads.

Kayla Seenarine '18
Title of Project: Networked Learning and Deviant Art Tutorials

Major: Childhood Studies

Minor: Psychology

Faculty Mentor: Mr. Julian Burton, Graduate Assistant for Childhood Studies

DeviantArt is an art website founded in 2000 as a place for artists and art lovers to interact, collaborate, and just have fun. Now in 2017, it is one of the biggest online art sites. Its gallery has a variety of genres from metal work to stock images, a wide variety of digital art in every subject, various groups where users can share interests, and chatrooms for people to make new friends. The members of this community are very diverse and range from commission artists to passive watchers. However, their motives for joining are all unique. Yet every member is contributing to make DeviantArt a very popular and successful website.

I joined this site about two years ago as a hobbyist artist and since then I have noticed some interesting trends. This has so fascinated me so that I have chosen to develop a study that examines this association. My focus is assessing the motivations for joining DeviantArt and how members are utilizing this website. My methods for gathering this data are snowball surveys and public comment examination. Once the data is collected, the responses can then be analyzed, categorized, and then reported.

Shaun Tung '18
Title of Project: Small Oligomers of the Protein Amyloid-Beta and Membrane Damage in Alzheimer's disease

Major: Computational and Integrative Biology

Faculty Mentor: Dr. Luca Larini, Assistant Professor of Physics

In this study we will use molecular dynamics simulation techniques to study the conformations of the aggregates of the protein amyloid beta, one of the protein associated with Alzheimer's disease.

The amyloid beta protein is well known to misfold into beta hairpin conformations that eventually form aggregates as beta sheets that are typical of amyloid fibers, and progress into Amyloid plaques. Amyloid plaques are one of the two main hallmarks of Alzheimer's disease, but the origin of their toxicity is still unknown.

At the same time, amyloid beta molecules can also form more compact conformations, known as beta-barrels. There is evidence that beta barrels can be quite toxic, for instance, inserting into the cell and disturbing the cell's natural calcium homeostasis causing cell death. However, very little is known about this type of structure.

Our research and our simulations attempt to assess whether or not Amyloid Beta proteins can actually form beta barrels and what the origin of toxicity may be.

Vanessa Whitt '17
Title of Project: Examining the Association between Disassociation during Sex and Condom Use Self-Efficacy among Abused Women: Implications for HIV Interventions  

Majors: Childhood Studies and Psychology

Faculty Mentor: Dr. Courtenay Cavanaugh, Associate Professor of Psychology

*Recipient of the Arts and Sciences Dean's Undergraduate Conference Travel Grant

Background: While dissociation is a sequelae of intimate partner violence that is believed to compromise sexual risk behavior and antecedents of sexual risk behavior such as condom use self-efficacy, there is a paucity of empirical research examining dissociation during sex with condom use self-efficacy. Aim: This study examined whether dissociation during sex was negatively associated with poor condom use self-efficacy among women residing in a domestic violence shelter. Methods: Survey questionnaires, including the Dissociations during Sex Scale (DEDS; Hansen, Brown, Tsatkin, Zelgowski, & Nightingale, 2012) and the Condom Use Self-Efficacy Scale (CUSES; Straus, Hamby, Boney-McCoy, & Sugarma, 1996), were administered to 32 women residing in domestic violence shelters and who participated in an HIV prevention intervention. Correlation analyses were run to examine the association between dissociation during sex and condom use self-efficacy. Results: There was a significant negative correlation between higher DEDS scores and condom use self-efficacy (r=-.618), p-value 0.01; suggesting that women who experience dissociation during sex are less likely to report feeling efficacious about using condoms. The Cohen effect size of this correlation is large. Conclusions: Findings suggest that HIV prevention interventions that reduce dissociation during sex may improve condom use self-efficacy.

Angela Wollard '17
Title of Project: Invasive Species Impact on Nutrient Dynamics: A Meta-Analysis

Major: Biology

Faculty Mentor: Dr. Angélica González, Assistant Professor of Biology

*Recipient of the Arts and Sciences Dean's Undergraduate Research Grant* 

The rate of biological invasions is accelerating worldwide.  Invasive species are widely accepted as one of the leading direct causes of biodiversity.  Such species post a significant threat to natural communities and ecosystems.  Among these threats, invasive organisms effect on ecosystem nutrient dynamics through their effects on the available pools and fluxes of chemical elements, altering the functioning of ecosystems.  This project involves applying meta-analytical approaches to analyze and compare ecosystem-level impacts of invasive species.  Overall, this project will involve compiling literature-based data across species, analyzing through meta-analytical techniques, and interpreting the results.      

David Yang '17
Title of Project: Co-Aggregations of Nucleic Acid Nanostructures with Tetracycline Molecules Combined with a Magnesium Binding-Mediate 

Major: Chemistry

Minor: Mathematics

Faculty Mentor: Dr. Jinglin Fu, Assistant Professor of Chemistry

The objective is to study aggregations of nucleic acid nanostructures of a tetracycline molecule complex combined with a magnesium binding-mediate mechanism.  Minocycline hydrochloride (MO), a tetracycline derivative, is an antibiotic drug which is commonly used to clinically treat inflection and inflammation.  However, the common issue of complications arises from inefficient systemic administration of the drug delivery.  Drug delivery is an approach that transports a pharmaceutical compound in the body to achieve desired therapeutic effect.  According to the study, some approaches such as think hydrophilic films or hydrophobic coatings are inefficient due to lack of strong interactions between the MO and polymer layers.  However, deoxyribonucleic acid, DNA, is an excellent candidate in transportation of drug delivery due to its programmable nucleic acids base pairs.  DNA not only has the capacity to deliver the drug, but it also coats and co-aggregates the drug which controls sufficient concentration of drug release, preventing a serious side effect.  To combine the DNA and MO together, the magnesium binding-mediator is developed and studied to comprehend the electrostatic attraction and hydrogen bond.  To study the DNA-MO complex, we performed a series of experiments to demonstrate the aggregations, pH-sensitivity, single DNA versus double DNA, and metal ion competitions.    

Zachary Zampino '18
Title of Project: Fight for the Throne 

Major: Computer Science

Minor: Digital Studies

Faculty Mentor: Dr. James Brown, Assistant Professor of English

I will explore Twitter bots and their role in building procedurally generated narratives using characters, setting, and themes from George R. R. Martin's "A Song of Ice and Fire" book series.  Every few hours, an algorithm outputs a new event that happens in a fictional war set in the ASOIAF universe.  The event may be the taking of a castle or the death of a character (or characters).  The algorithms keep track of who lives and who dies, and determines the winning side once all opposing members are killed or captured.  Each event is automatically tweeted out from an automated Twitter account using Twitter's API.  The event tweets themselves are usually gruesome and attempt to recreate George R. R. Martin's style of writing.  Most events involve character deaths in order to reaffirm and re-contextualize many of Martin's themes in the ASOIAF series about death and war.  The Twitter account is a persistent take on a fictional fantasy war that can create compelling (or boring) war narratives without any human interaction.